DISCOVER ISCHGL
WINTER IN THE ALPS IN LIFESTYLE PARADISE
Everything is offered here, what makes the heart beat faster and guests happier. Kilometers of perfectly prepared slopes and perfectly prepared cross-country trails.
With 239 kilometers of slopes, 515 hectares of slopes, 45 mountain railways and lifts, Ischgl is a superlative ski area. It is one of the most spectacular ski areas in the world.
ENJOYMENT is very important in ISCHGL.
Fine dining restaurants, mountain hubs and many other restaurants offer culinary highlights for the well-being of body and soul. Top gourmet restaurants in the Paznaun or modern design flair leave nothing to be missed by even the greatest gourmets.
Here you can find top events, parties to celebrate and dance to leave everyday life behind:
"RELAX IF YOU CAN" – is not just any motto, but best describes the attitude to life and the variety that Ischgl offers his visitors.
Countless other highlights are waiting for you in Ischgl, the list could go on and on.
Anyone who has ever been to Ischgl comes back again and again. Are you ready for a winter holiday that offers maximum variety? Do you get a big smile when you think about your ski boots? Are your eyes already sparkling at the idea of ​​an unique "Winter Wonderland"?
Then you should now make your dream of the perfect winter holiday come true! The only answer to all your winter dreams is "Off to Ischgl!"
Winter vacation in Ischgl
Sportshops, Skiservice & rental at Hotel madlein▪
You don't have any ski equipment yourself or would you like to save yourself the hassle of transporting it? Then simply borrow the latest winter sports equipment from the "rent & go" store. Do you ski on top brand skis that are well maintained? Race models and high-end skis for experts are also available, as is optimal material for enjoyable skiing. Our competent team will be happy to provide you with expert support in choosing the right ski.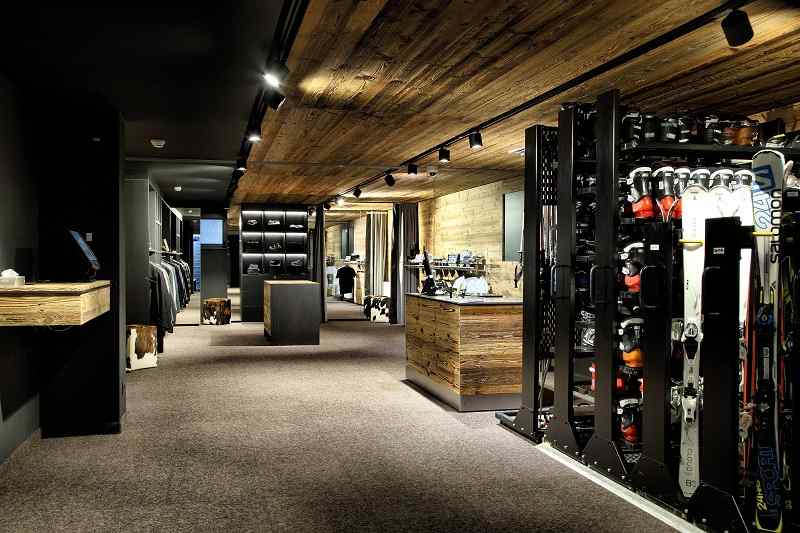 In-house ski rental
Ski rent & more
If you want to treat your own skis to a service, the sports shop in the design hotel madlein▪ is the first choice. When you return from the Silvretta ski area, simply hand in your skis. The next day, the edges are exactly as sharp as you want them to be. You can also shop extensively in the store. Complete your equipment with various accessories or dress yourself in completely new clothes in trendy piste fashion. Please ask for a non-binding and individual offer for the hotel madlein▪ and secure your ski and snowboard equipment before your holiday. But maybe one of the package deals also meets your requirements.